Syn & Yello - Double Trouble Artpack OUT NOW!
A massive artpack with 20 (!) artworks of our gorgeous simian beauties Syn and Yello!
This time they even team up for the first time in the small series "No Time For Work I-V". Even Yello can still learn something from a gal like Syn.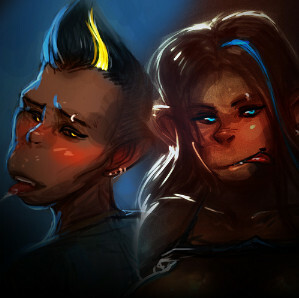 (You can choose from layered 3000 x 4000 px PSDs or JPGs in the dropdown menu below
the content list)
Contents:
Syn & Yello - No Time For Work I
Syn & Yello - No Time For Work II
Syn & Yello - No Time For Work III
Syn & Yello - No Time For Work IV
Syn & Yello - No Time For Work V
Syn - Late Night Selfie I
Syn - Late Night Selfie II
Yello - Late Night Selfie
Yello - Delayed Reaction 0 - Prequel-
Yello - Delayed Reaction I
Yello - Delayed Reaction II
Yello - Exhibitionist Tendencies I
Yello - Exhibitionist Tendencies II
Yello - Exhibitionist Tendencies III
Yello - Exhibitionist Tendencies IV
Yello - Flashing & Luring
Yello - Flashing At Work
Yello - Party Prelude I
Yello - Party Prelude II
Yello - Party Prelude III